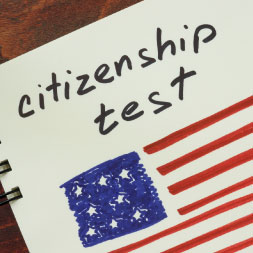 Wishlist
U.S. Citizenship Test Preparation
The first part of the US citizenship test is the English component which is made up of three parts namely the speaking test, the reading test, and the writing test. The reading and writing test are conducted using a digital tablet which you will be taught to use before you start. The English test covers basic grammar and vocabulary and the immigration officer would expect that a lot of applicants make common mistakes so you don't have to worry about making some errors.

The second part of the US citizenship test is the civics component which requires the applicant to have sufficient knowledge and understanding of U.S. history and government. You need to answer at least six out of ten questions correctly. Your assigned immigration officer will randomly ask you questions and stop once you have answered six questions correctly. More than half of the questions are about the U.S. government and the rest are about American history.

This U.S. citizenship test preparation covers U.S. history and government structures in a multiple-choice format, ot is a fun way to review U.S. history and to learn things about the U.S. that you may have forgotten or have not studied before. The U.S. Citizenship Test is a required step in the naturalization process to become a citizen of the United States and this test offers the ideal preparation. Secure your American citizenship by taking this free US citizenship test!
[[comments.length]] Comments
[[(comment.user) ? comment.user.first_name+' '+comment.user.last_name : comment.name+'(anonymous)']]
[[ formatDate(comment.created_at) | date:'medium']]
[[ comment.text ]]
[[(comment.user) ? comment.user.first_name+' '+comment.user.last_name : comment.name+'(anonymous)']]
[[ formatDate(comment.created_at) | date:'medium']]
[[ comment.text ]]