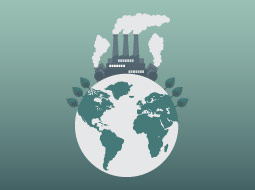 Wishlist
Understanding our Environment in Geography
This course begins by giving you an introduction to global phenomenon which is a major natural or human event or process which possesses the capacity to affect the globe or significant parts of it. You will study the positive and negative impacts of global phenomena on people and places as well as the factors that affect it. You will also study the hegemony of the English language and the impacts of its increased global usage.

You will then look into global environmental strategies for the reduction of sea levels and deforestation and learn why this global phenomenon has been recognised as one that can only be controlled effectively if a global challenge is attempted. With this course, you will also learn that it was decided at the Kyoto Conference that the standard of living in the north was creating much greater emissions of carbon dioxide than that of the countries of the south.

Global phenomena are prevailing problems of the nations of the world with primary concern placed on the environment. Upon the completion of this course, you will learn about different global phenomena such as carbon emissions, rainforest destruction, and sea level rise including their impact on people and places. You will also learn about carbon credit trading and refugees. Check out this course and start learning about the different strategies that are carried out in response to global problems.
[[comments.length]] Comments
[[(comment.user) ? comment.user.first_name+' '+comment.user.last_name : comment.name+'(anonymous)']]
[[ formatDate(comment.created_at) | date:'medium']]
[[ comment.text ]]
[[(comment.user) ? comment.user.first_name+' '+comment.user.last_name : comment.name+'(anonymous)']]
[[ formatDate(comment.created_at) | date:'medium']]
[[ comment.text ]]