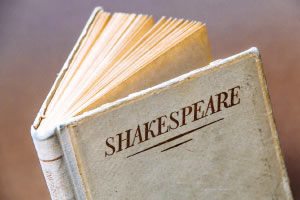 Wishlist
Shakespeare - His Life and Work
This course begins with an introduction to Shakespeare and his early life. You will learn about the theatre scene, the types of theatre companies in his time, and how his themes make people think about themselves and the world around them. You will learn that audiences at London's playhouses behaved more like crowds at rock concerts today than theatre audiences who sit quietly on seats in darkened auditoriums. You will look into the famous Hamlet speech and Bloody Macbeth, and more.

You will then look into the Shakespearean language. Shakespeare was a wordsmith of the highest order. With this course, you will learn that he created the most sublime insults which would be difficult to match. You will also learn that when a character is on a stage by herself speaking, what she says is called a soliloquy. You will study Hamlet's and Prospero's soliloquy as well as analyze A Midsummer Night's Dream, which is one of Shakespeare's most loved play.

Shakespeare was an extraordinary playwright and explored the human condition in great depth and with great compassion. With this course, you will gain better insight into his language, quotes, and poetry where you can see that his work can be adapted for any society as it encompasses themes that affect all people regardless of their race, colour or gender. Check out this course and so you can unravel the obvious layers of meaning and look for the deeper messages and links that give Shakespeare's works their richness and complexity.
[[comments.length]] Comments
[[(comment.user) ? comment.user.first_name+' '+comment.user.last_name : comment.name+'(anonymous)']]
[[ formatDate(comment.created_at) | date:'medium']]
[[ comment.text ]]
[[(comment.user) ? comment.user.first_name+' '+comment.user.last_name : comment.name+'(anonymous)']]
[[ formatDate(comment.created_at) | date:'medium']]
[[ comment.text ]]