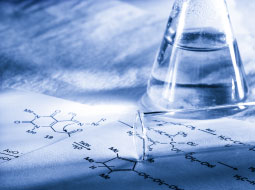 Wishlist
The mole concept states that one mole of any substance is the amount of that substance containing as many defined particles such as atoms, ions, or molecules as there are atoms in 12 g of carbon-12. This course will first give you an overview of the mole concept. You will then study volumetric analysis and important topics such as dilutions and titrations, analysis by chemical reaction, and analytical chemistry. You will also look into equilibrium in endothermic and exothermic reactions.

You will then study Le Chatelier's principle and concentration-time graphs. This course will also discuss precipitation reactions, ionic equations, and solubility rules. You will study Water Kw and the use of the pH scale, gravimetric analysis, and spectroscopic techniques such as colorimetry. You will also study chromatographic techniques such as paper chromatography, thin-layer chromatography, and gas chromatography. Finally, you will look into industrial chemistry and cover petrochemical industry and techniques used such as refining crude oil and the fractional distillation of crude oil.

By the end of this course you will have gained a better understanding of important chemistry concepts such as the procedures involved in volumetric analysis including titration and dilution. Your knowledge about analytical chemistry such as qualitative analysis, chemical reactions, gravimetric analysis, spectroscopic techniques, and chromatographic techniques will also have become clearer. This is essential knowledge for any aspiring scientist, so check out the course and start learning today!
[[comments.length]] Comments
[[(comment.user) ? comment.user.first_name+' '+comment.user.last_name : comment.name+'(anonymous)']]
[[ formatDate(comment.created_at) | date:'medium']]
[[ comment.text ]]
[[(comment.user) ? comment.user.first_name+' '+comment.user.last_name : comment.name+'(anonymous)']]
[[ formatDate(comment.created_at) | date:'medium']]
[[ comment.text ]]